What are the Benefits of a Battery-Powered Mop (i-mop)?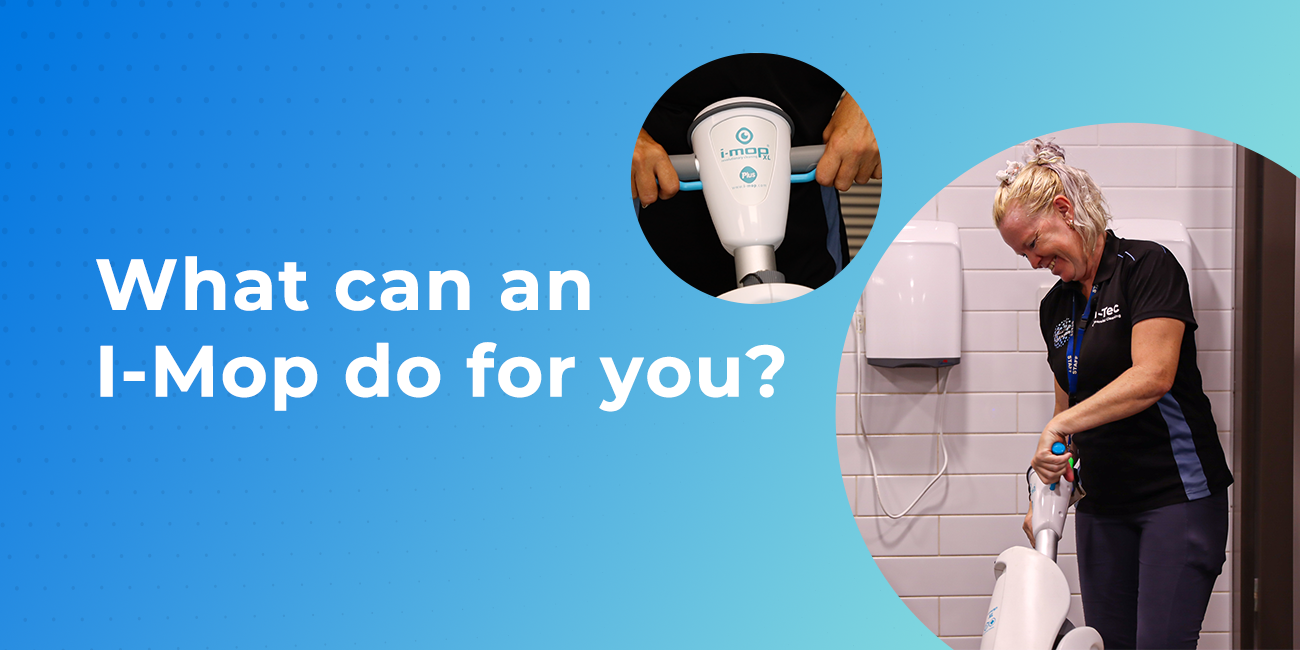 Let me ask you a question.
What do you think is the highest cost in any cleaning operation?
……
Now let me tell you the answer.
99% of the time, labour is the most expensive cost.

And let me tell you something else. Over 70% of workplace floors are still cleaned with a traditional spaghetti mop and bucket.

Haven't we moved past doing things the old-fashioned way?
No one writes letters anymore or uses a Nokia brick phone.

So isn't it time to mop our floors differently?

Wait where are you going with this?
What I'm saying is that it's time to drop the mop and bucket and consider investing in a piece of cleaning equipment that yes, cleans your floors better, but also lowers your labour costs. This is where a battery-powered scrubber dryer like the i-mop comes into the picture.

We understand that you may not know what a battery-powered scrubber dryer with mop-like flexibility does, or the benefits it can generate for you, your site, and your cleaners. So, in this article, we're going to gather our many years of knowledge and go through:
What an i-mop is,
How it works, and
The 7 benefits of having one on your site.
By the end, you'll have all the information to make a decision as to whether you want to invest in an i-mop for your workplace.
What is an i-mop and how does it work?
As the name suggests, the i-mop is a powerful industrial floor scrubber that's here to revolutionise the way we clean floor surfaces.
The i-mop was designed to essentially have the flexibility of a floor mop and the power and speed of a scrubber dryer. It combines the benefits of both historic cleaning systems to give the ultimate cleaning tool.
With a 360-degree swivel joint, the i-mop's mobility is extensive as it can clean around and under tables, benches, bathrooms, toilet basins, and other nooks and crannies that may seem impossible to reach.
The cordless wonder (yes, it has rechargeable battery packs!) is extremely lightweight with two 350 rpm high-performance scrubbing brushes, followed by a powerful vacuum to pick up all that extra residue.
The twin brushes on the i-mop are equally mounted ensuring there is an even brush pressure across the entire surface. In other words, no spot is missed. This even includes floors that have bumps, crevices, or grout lines.

In terms of what features the i-mop XL (which we highly recommend) comes with, it includes:
Two 350 rpm brushes
5kg brush pressure
46cm scrub width
A whole range of brush and pad options
Easy swivel operation
Intuitive controls
2 sets of i-power batteries (ability to run 24/7)
Linatex squeegees
Light enough to be picked up
Colour-coded detachable tanks for cleaning solution and recovery water
What do you think so far?
Does the i-mop sound like it'd be a great fit for your workplace?
The 7 benefits of using an i-mop at your site
We can go on and on about what the i-mop is and how it works but that may not be enough to convince you that it'd be perfect for your site.
So, in this section, we're going to go through the top 7 benefits of the i-mop and why it's a fantastic alternative to your traditional spaghetti mop and bucket.

But what makes it so special? Let's dive in and find out!
Cleans faster
If you've ever used a string mop and bucket to clean your floors, you'd know that it can be a time-consuming task. Especially with all the walking back and forth to the bucket.

What if I was to tell you that there's a quicker (and better) way to get things done…
The i-mop of course!
It cleans up to 70% faster than traditional wet mopping and up to 30% faster than those big auto scrubbing machines you see in shopping centres.

Plus, the i-mops productivity is 8-10 times faster than a standard mop.
The time it takes an i-mop to clean a 300sqm area is:
i-mop Lite – 15 minutes
i-mop XL – 11 minutes
i-mop XXL – 8 minutes
Due to the i-mops unique manoeuvrability, your cleaner can clean your workplace at full walking speed including all those hard-to-reach areas that seem impossible to get to, but aren't with the i-mop!
Removes more dirt
Are your floors as clean as you think?

As much as we'd like to believe that conventional mopping does its job, it really doesn't.
Standard mopping removes as little as 30-40% of dirt…not even half!

Whereas you guessed it, the cleaning, scrubbing, and rinsing power of the i-mop removes over 97% of dirt off your floors.
From these statistics, it seems pretty clear that the i-mop is the best option for keeping your workplace floors as clean as possible.
ATP testing (test the bacteria load counts on surfaces) also confirms that the i-mop's twin counter-rotating brushes clean surfaces 90% better than a mop and bucket.
Lowers labour costs
We're all looking to lower costs wherever we can.

And you may not believe it, but an i-mop will actually deliver you labour savings.
Its innovative and effective technology speeds up the cleaning process (makes your cleaners more productive) and reduces the need for cleaning chemicals – these two costs will be saved.

If you, your employees, or cleaners still manually mop your workplace floors, then check out i-team's i-mop savings calculator to see exactly how much an i-mop could save you.

To put it simply, the labour savings from the i-mop can either be passed directly to the client or can be utilised by the cleaner performing other tasks around your site.
Environmentally friendly
Considering that water is one of the most important natural resources in the world, we should all be implementing measures to limit our usage.

The i-mop has done just this.
It reduces environmental impact by over 75% as it uses a fraction of the water and chemicals that traditional cleaning methods do.
Look at it this way. A scrubber dryer consumes 35 litres of water per hour while the i-mop only uses 9 litres. This 75% save comes from the i-mop's high speed (350 rpm) brushes which are able to retain water within the bristles.
What's even better is that each i-mop out on the field contributes 18 litres of water per day to the Made Blue Foundation. To give you a bit of background information, the Made Blue Program invests in projects in developing countries to help provide water for those who don't have access to it.
It's a pretty good incentive to get an i-mop on your site, right?
Dries quicker (which in turn, is safer)
Gone are the days when a string mop and bucket leaves a path of dirty water and slippery floors.
With the i-mop's advanced suction technology, it's able to extract almost all of the cleaning solution leaving your floors dry and safe to walk on virtually immediately.

And I mean within 10-30 seconds!
If you compare this to the traditional mop, which takes 15 minutes or longer, there's a huge difference.

Another thing I want to mention in this section is 'hazard time.' This is considered the dangerous window of time in which slips, and falls are a high possibility. The i-mop reduces the 'hazard time' risk by 95%.
Not only does the i-mop keep your employees safe, but also our cleaners.
Durability
To give you an idea of the i-mop's durability, I'm going to talk about our personal experience with the product.
In-Tec's oldest i-mop is 8 years old and is still doing its job at the highest standard. Since its purchase all those years ago, it has been used every day and still has the same batteries and brushes.
The longevity of the i-mop is just awesome!
Just as we service our own cars, the same goes for an i-mop. However, it doesn't need to be done as regularly as our oldest i-mop has only been for 1 service during its 8-year usage. Yes, things like squeegee blades need replacing over time, but overall, the maintenance needs are low.
Suitable for any floor surface
There's no flooring type the i-mop can't handle.

It can take care of:
Ceramic tiles
Porcelain tiles
Granite
Marble
Concrete
Terracotta
Terrazzo
Slate
Vinyl
Timber
Cork
Phew, that was a long list!
And because the i-mop can clean practically any surface, it means there is a range of brushes to choose from that suit different floors. For instance, the hard brush is perfect for dirty and aggressive floors, while the soft brush is best for timber and cork floors.
It only takes 10 seconds for your cleaner to swap the brushes out which means they aren't losing too much time from cleaning your site.
Why an i-mop is perfect for your workplace
Say goodbye to the mop and bucket and say hello to the i-mop.
Have we convinced you that a battery-powered scrubber dryer mop is the best way to go?
If you're still on the fence, just remember these few points:
The i-mop cleans 70% faster than a traditional spaghetti mop
It removes 97% of dirt
Your floor will dry in 10-30 seconds
It increases productivity and thus reduces labour costs
The i-mop reduces water intake (environmentally friendly)
I think it's safe to say that the i-mop is perfect for any and everyone and certainly improves the cleanliness of your site. After all, that's the whole reason why you've chosen to employ a commercial cleaning company in the first place - to make your site clean and not just look clean!
If you're still considering whether an i-mop is the best option for your site, take a look at our article Cotton String Mop vs Microfibre Flat Mop vs i-mop. After reading this, you'll see that there are many factors to take into account when it comes to choosing a mop for your site.