What are the 5 Types of Cleaning Services? [Pros, Cons & Comparison]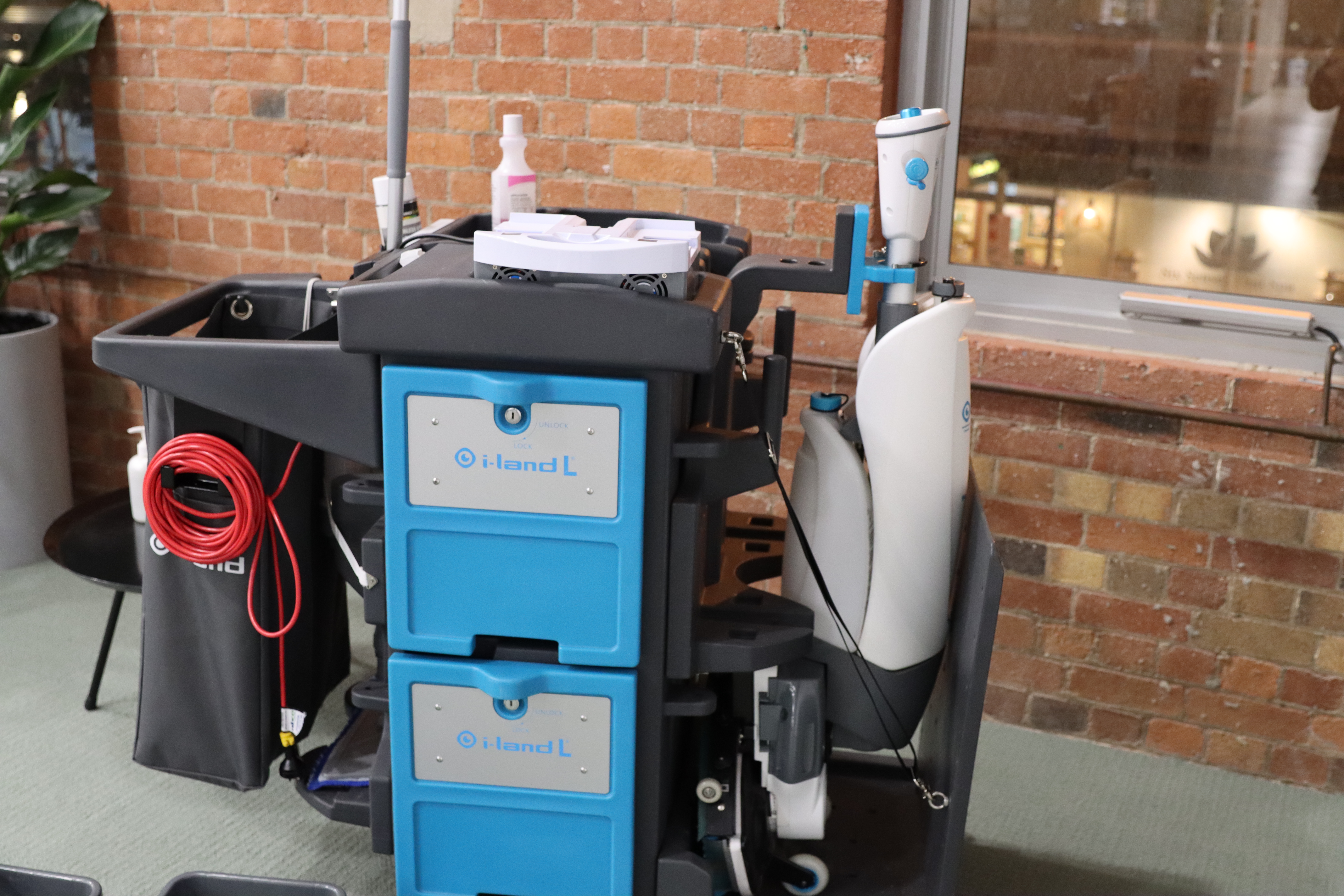 If you're in the market for a new commercial cleaning service, you may be wondering what type will work best for you and your requirements.
And yes, there is more than one to consider!
While it's great to have many options available at your doorstep, they all have different qualities and aspects to them that can make it difficult to choose.
After all, you need to find out which one will cater to your needs and deliver the service you're after.
Here at In-Tec, we believe it's important to give an honest comparison of the 5 types of cleaning services. So, by the end of this article, you'll understand what your options are and who they fit best for. You will learn about:
The pros and cons of the sole operator model
The pros and cons of the franchise model
The pros and cons of the contractor cleaning model
The pros and cons of the employee-centric cleaning model
The pros and cons of the facilities management model
Let's find out which type of cleaning company is best for you!
The 5 Types of Cleaning Services
Cleaning Service Type 1: Sole Operator (Mum and Dad) Model
What is the Sole Operator Cleaning Model?
The first type of cleaning company we're going to take a look at is the sole operator model, or otherwise known as the 'mum and dad.'
The sole trader model will either consist of a one-man operation or maybe what is referred to as a mum and dad set up. Generally, either a sole trader or the couple will do the cleaning work directly.
You generally see sole operators cleaning small sites that only need to be serviced once a week, once a fortnight, or once a month. They are best suited to sites that have a small number of employees, limited foot traffic, and a simple site that needs very little done.
Pros
This model to a client can be the cheapest service available. For a budget-conscious client who is looking at spending as little as possible, this can be the right fit.


The benefit of hiring a sole operator cleaning service is that the whole income they charge is theirs. Because of this, they have a care factor about cleaning and their clients.


Additionally, being that they're individuals, you will always have a direct line of communication with them. In other words, you'll have a one-on-one relationship.
Cons
There is an issue that your cleaner could disappear overnight – this could leave your workplace without a cleaner for quite some time. For instance, here at In-Tec, we have heard stories from clients where their cleaners have disappeared with no word of warning. This may be due to the cleaner receiving a job elsewhere, or possibly even getting into a workplace accident. If this happens, dirt and bacteria will build up within your site until you are able to find another cleaner.


Lastly, sole operators typically aren't up to date with the latest cleaning equipment and products.
Cleaning Service Type 2: The Franchisee Model
What is the Franchisee Cleaning Model?
The franchisee generally comes from a field other than cleaning and either has been made redundant or is looking for a sea change career.
This model is structured where a franchisor licenses another party (franchisee) to sell its services under its trademark, such as Jim's Cleaning or Jani King.
Generally, a franchisee is left to perform the work and sometimes quote new work with the franchisor doing the marketing. Sometimes the franchisor is quoting the work for the franchisee and then handing it to the franchisee (not dissimilar to the contractor model).
Pros
This model can also be advantageous for clients who have a small site with a minimum number of employees, limited foot traffic, or a simple site that has nothing too complicated.
There are controls and standards they need to adhere to. This can include the type of cleaning products and equipment they use (they won't just use any random chemicals), how they invoice you, and how they communicate with you.


Again, they are one of the cheapest types of cleaning companies out there – due to lower overheads.
Cons
The franchisee can become disheartened as they are putting in the hours and not getting the support promised – they're typically supported only for marketing campaigns and some business advice.


The franchisee can decide to break away from the franchisor leaving you wondering who you are dealing with.


There can be a lack of training given initially or acquired later. This can result from the franchisor just wanting work with no "care factor" or the franchisee not really wanting to clean for a living (the sea change career did not work out).
Another downside to this model is the lack of communication. If you were to contact someone about an inquiry, it could be ages until it reaches the right person. Or it'll reach the right person, but a totally different message has been conveyed.
Cleaning Service Type 3: The Contractor Model
What is the Contractor Cleaning Model?
As the name suggests, this type of cleaning company operates on contracting.
Now what we mean by this is you will engage XYZ cleaning company to come out and quote your site for regular cleaning. But there's probably one tiny detail you don't know and they're not telling you.
What you don't know is that the XYZ company will then contract out the work to a third-party ABC. And, it could even get contracted out again to DEF cleaning company!
It is a very common practice for this model to subcontract approximately 2 times past the client – and believe us, we've seen this happen many times.
Pros
The contractor model to a client is one of the cheapest services available. This is because they don't have to pay employee oncosts such as superannuation, leave entitlements, etc.


Another pro of this type of cleaning company is that if your cleaner was to fall ill, go on holiday, or leave their job, they have a pool of subcontractors to choose from to replace them. In other words, you'll have someone at your site no matter what.
For a budget-conscious client who is looking at spending as little as possible, this is the right fit for you.
Cons
However, the contractor cleaning model is not without its downsides.
If the client has a problem with the standard of service, it is difficult to receive a response as communication can be virtually non-existent due to the subcontracting cycle.


Generally, contract cleaning businesses pay their staff below the standard award rates set by the Cleaning Services Award 2020 which can result in low standards of service.


Another downside is that subcontractors don't receive a lot of training. And because they don't receive the appropriate training, they aren't usually up to date with the latest cleaning products and technologies.


And lastly, you just don't know who will be cleaning your site as it's more than likely they've subcontracted the work out.
Cleaning Service Type 4: The Employee-Centric Model
What is the Employee-Centric Cleaning Model?
An employee-centric cleaning service prides itself on having employees only – no contractors to carry out the work. They generally have anywhere between 4-5 employees up to 100 employees.
They are fully trained in cleaning, supported and monitored, and are supplied with all the latest cleaning equipment, cleaning solutions, and materials.
An employee-based company is here to support you, the client at any time of day or night. Whilst the cleaners generally work at night, there is a support team for the cleaners that are available during the day to work with you to resolve anything that may happen from time to time.
Pros
The advantage of engaging with an employee-centric cleaning service is that they will consistently go above and beyond to provide a high standard.


This type of cleaning service is also more than likely going to be using a monitoring and tracking system for their employees. For instance, here at In-Tec, we use an application called freshOps that allows our clients to trace exactly what time the cleaners arrived, what cleaning tasks have been completed, and the next services coming up on their calendar. A reputable cleaning service should be able to provide you with information on how they track their cleaners whilst they're on-site.


The last pro of the employee-centric model is that they treat employees fairly such as paying them the appropriate award rates and the conditions that come with it. When cleaners are paid fair wages, this reflects on the training and quality of work they exert into cleaning your site.
Cons
An experienced cleaning company will expect that a certain cleaning standard is delivered (a quick vacuum does not exist). This can result in time being allocated to perform a task correctly, resulting in the overall price going up to the client.
For some, this may stretch their budget due to the $60 to $70 an hour cost. In order to keep the business running, there are overheads the company has to take into account including insurance, work vehicles, and many others.
Cleaning Service Type 5: The Facilities Management Model
What is the Facilities Management Model?
A facilities management service is really just a large cleaning company. They typically have 100 + employees and perform a range of building services such as cleaning, landscaping, and even security services.
Because they are large companies, they generally don't touch work that's circa $100,000 or less.
However, there is an exception to this.
If you yourself are a large company that requires commercial cleaning, your head office may request that you deal with a like for like business. Large businesses tend to work together as they typically have similar policies and procedures put in place. So, even if your cleaning may cost you $30,000, this type of cleaning service will want to work with you because you're alike.
Pros
Cost-effective for larger sites that are paying $100,000 plus for cleaning services.


If you're a large company, then they'd be able to comply with your policies and procedures.


They can clean multi-site organisations such as a chain organisation e.g. Chemist Warehouse.
Cons
After you've spoken with the salesman who came onto your site to quote the work, you generally don't speak to them again as they've handed your case off to the operations team. Now, what this could mean is that everything you've spoken about to the salesman could potentially go out the window.


Large cleaning companies have standardised policies. All their cleaners are trained in a specific structure. For instance, if they're told not to clean the desks in a workplace setting then none of them will do this, even if you request to have it done at your site.
We want you to be able to consider the pros and cons of each type of cleaning service before choosing which may be best for you. So, here is an easy-to-read table that does just that.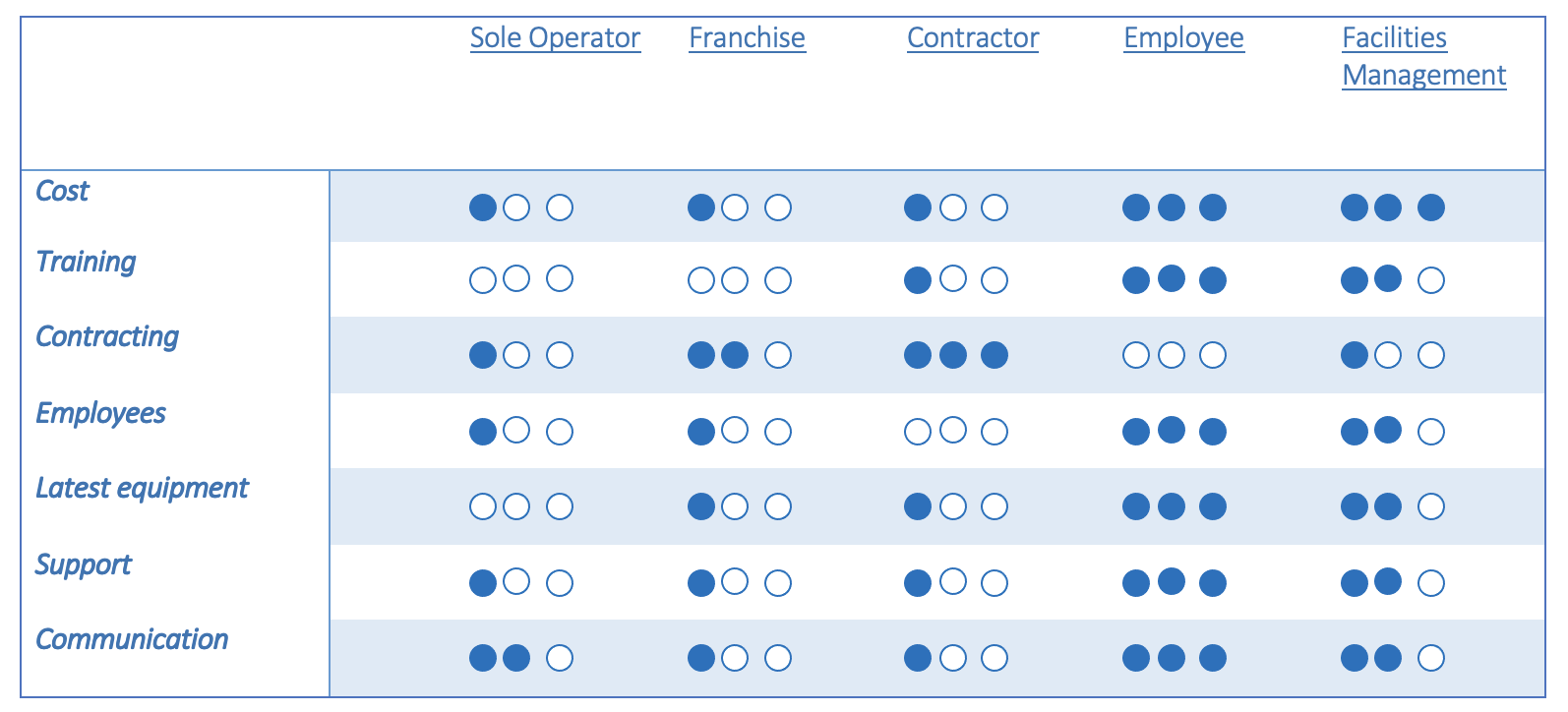 Which Type Of Cleaning Service Is Right For You?
Like anything with options, there are pros and cons to each.
This can be said for choosing the right cleaning service.
Although it may be difficult to decide, we hope that by reading this article, you've got a better idea of which type of cleaning service is right for you.
After all, it depends on what you're after and how much you're willing to spend. If you can answer these two questions, then you are on the right track to hiring a cleaning service with full confidence.
At In-Tec, we care about your cleaning needs which is why we are available to help you make the best decision.
To learn more or to ask us any questions about selecting a cleaning service, schedule a call with Paul or Caitlin. Let's talk cleaning!