Do Enzyme Cleaners Really Work? [Enviroplus Products]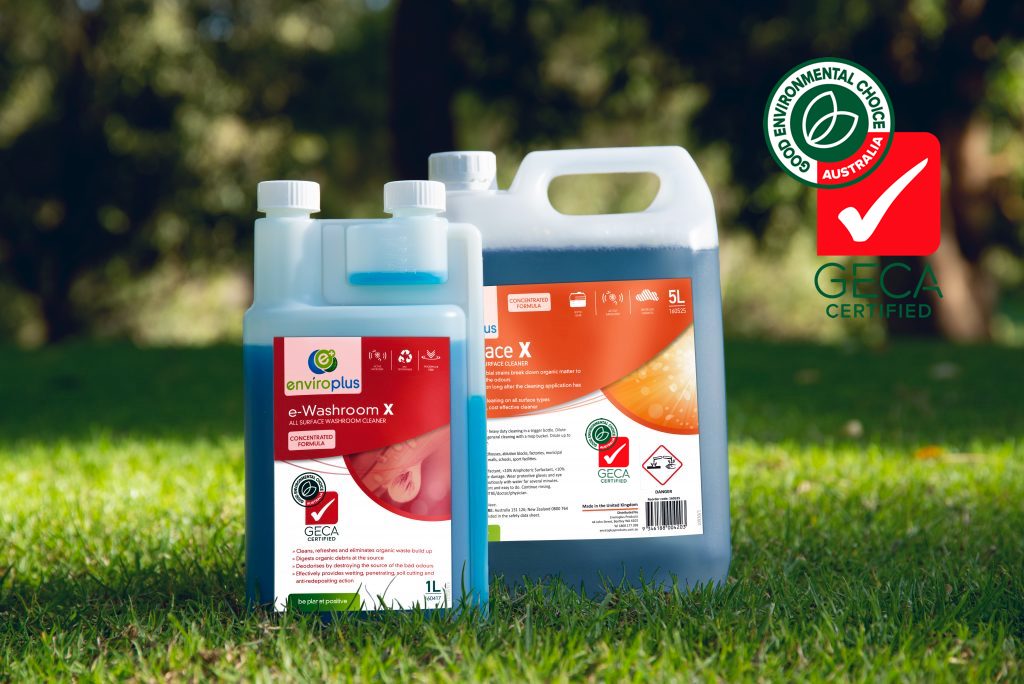 Do you know what cleaning products your commercial cleaner uses?
If you're unsure, next time your workplace is cleaned, try and take notice of the bottles they use or even the smell that's left behind.
Do the products look like they're bleach or acid-based? Is there a chemical-like smell left behind? (You know, the smell that makes you want to immediately block your nose).
If your cleaner is using products like these, then they likely contain chlorine and ammonia (amongst others) that are toxic, and certainly not sustainable or environmentally friendly.
With oh so many cleaning products and solutions out there, what's the alternative then? What should my cleaners be using?
At In-Tec, we suggest enzymatic cleaners such as the Enviroplus X Range.
With 28 years of experience in the commercial cleaning industry, the team at In-Tec understand how important it's become to invest in green cleaning systems and products.
We recognise that you may be unfamiliar with enzyme-based cleaners which is why this article will explain:
What enzymes are,
Their association with cleaning,
Our preferred enzyme-based cleaning product,
And, why it's beneficial for you.
What are enzymes?
When we hear the word bacteria, we often think of sickness or danger.
But there are instances where certain strains of bacteria are beneficial to the environment, to human health, and cleaning products.
These are known as bio-enzymes.
What on earth is an enzyme? What have they got to do with cleaning?
Before we start, we do get a bit sciency here when we discuss enzymes so bear with us.
Enzymes operate as helpful tools that catalyse (speed up) chemical reactions between bacteria and soils. They break down complex waste particles into smaller pieces that bacteria can more easily consume. These smaller particles, such as organic wastes, urine, grease, and stains, essentially become "food" for the bacteria to digest and break down into carbon dioxide (CO2) and water (H2O).
Enzymatic cleaners use non-pathogenic "good" bacteria to digest waste, soil, stains, and bad smells. Different enzymes can break down different types of stains. Therefore, lipases react to fats and oils, amylases help to remove starch and carbohydrate stains, and proteases work on protein-based stains.
There isn't a stain that an enzymatic cleaner can't remove!
Not only are enzymatic cleaners highly effective at removing stains, but also bad smelling odours. An enzyme-based cleaning solution may take anywhere between 12-24 hours to dry (depending on the circumstances) which allows the cleaner to do their job in eliminating all the nasty things you don't want in your workplace.
Now that you know what an enzyme is and how they relate to cleaning, let's see which enzymatic cleaning products the team at In-Tec use.
What is Enviroplus?
So you may be wondering, "Are there any enzyme cleaning solutions out there that my cleaners should be using?"
Yes! In fact, we're going to talk to you about one enzyme-based cleaner that we highly recommend for any workplace.
In a world where we are all becoming increasingly aware of our impact on the environment (our carbon footprint), a lot of us are turning to sustainable green cleaning products.
Enviroplus is exactly this. They specialise in developing solutions that are "based on microbial, antimicrobial, plant extract, and enzyme technology."
What does this mean?
They produce cleaning products that are chemical-free, non-toxic, organic, and environmentally friendly (natural). In other words, they offer an efficient and effective alternative to chemical usage in the cleaning process.
But what types of cleaning products do they offer?
Let's find out!
What Enviroplus X Range products do we use
We've all come across a time where a stain just won't come off.
No matter how many times we clean back and forth and scrub as hard as we can, it just won't budge!
Ugh, how frustrating am I right?
However, there is a solution to this – a natural enzymatic cleaning solution.
Enzyme cleaning solutions are specifically designed to break down all types of stains on all types of surfaces. The Enviroplus X Range (which we specifically use at In-Tec), is formulated with natural and plant-derived surfactants. The X Range of cleaning solutions has 5 effective concentrate solutions. They include:
1. E-Washroom X – all surface washroom cleaner.
Cleans, refreshes, and eliminated organic waste build-up
Destroys bad odour at the source
Effectively provides wetting, penetrating, soil cutting, and anti-redepositing
2. E-Z-Kleen X – natural hard surface and floor cleaner. It is designed to provide deep cleaning power to cut through the toughest grease and starch.
Eco safe and biodegradable
Eliminates odours and accelerates organic waste breakdown
Powerful enzymes for removing grease stains
3. E-Guard X – natural antibacterial surface cleaner.
Designed to provide deep cleaning power to cut through grease whilst providing a fantastic shine to chrome and other similar surfaces
Plant-based, naturally formulated, and toxic-free
Powerful disinfectant that kills 99.99% of bacteria such as E.coli, Staphylococcus, and fungi
4. E-Surface X – all in one multi-surface cleaner. It is formulated with active surfactants and natural powerful enzymes.
Powerful enzymes eat up the organic matter and stop the bacteria from growing
Delivers exception cleaning on all types of surfaces
Odour eliminator
5. E-Power X – powerful concentrated cleaner. It uses powerful technology to boost the effectiveness of tile and hard surface cleaning.
Versatile for all hard surfaces
It is formulated with new nano emulsification chemistry which allows for ultimate penetration and release of grease and oily grime
Has the versatility of blasting through tough soil build-ups
The Enviroplus X Range really has a cleaning solution for anything and everything!
Whether you need to scrub your floors, clean your amenities, or clean your work desks, this cleaner is effective for every surface in your workplace.
The Enviroplus X Range is also widely recognised as the leading sustainable, natural, and cost-effective cleaning solution on the market. Not only is it healthier for the cleaners to use, but it's also better for our planet.
Why we recommend Enviroplus as a sustainable cleaning product
Why would a cleaning product like Enviroplus be beneficial for your site?
I mean, you're probably thinking that, right?
Well, first off, all Enviroplus products the team at In-Tec use are Good Environmental Choice Australia (GECA) certified. The GECA ecolabel is an independent 'tick' that shows a product is better for the environment (sustainable), is ethically made, and has a lower impact on human health. Essentially, the main focus of this cleaning product is to "minimise the overall commercial waste impact on the environment." This ties into the second reason why we recommend Enviroplus.
It's a fantastic alternative to traditional chemical-based cleaners like bleach, acid-based toilet cleaner, and the like. It's not harmful to you, your employees, your cleaners, and the environment. Plus, the "good" bacteria can get into very small crevices and cracks such as grout lines and eliminate soils and smells that your traditional cleaning chemicals often cannot remove.
Whether it's the prevention of unwanted dirt and grime or the protection of different floor types, Enviroplus has a deep cleaning solution for everything. This is why we recommend Enviroplus as a cleaning product! It's suitable for any workplace and for any cleaning job!
Yes, enzymes do really work and are fitting at any site!
Have we convinced you that enzymes do really work?
Because they really do!
If you're after a sustainable and chemical-free cleaning solution that will remove soils, stains, dirt, and odours, then Enviroplus is the way to go. Formed with natural and plant-derived surfactants, Enviroplus is designed to clean anything and everything!
Ask your commercial cleaning company whether they use enzyme-based cleaning products at your site.

Schedule a call with Paul or Caitlin if you have any other questions regarding enzymatic cleaning or other green cleaning products that In-Tec offers.

We're here to help.