6 Signs Your Commercial Cleaner is Doing a Good Job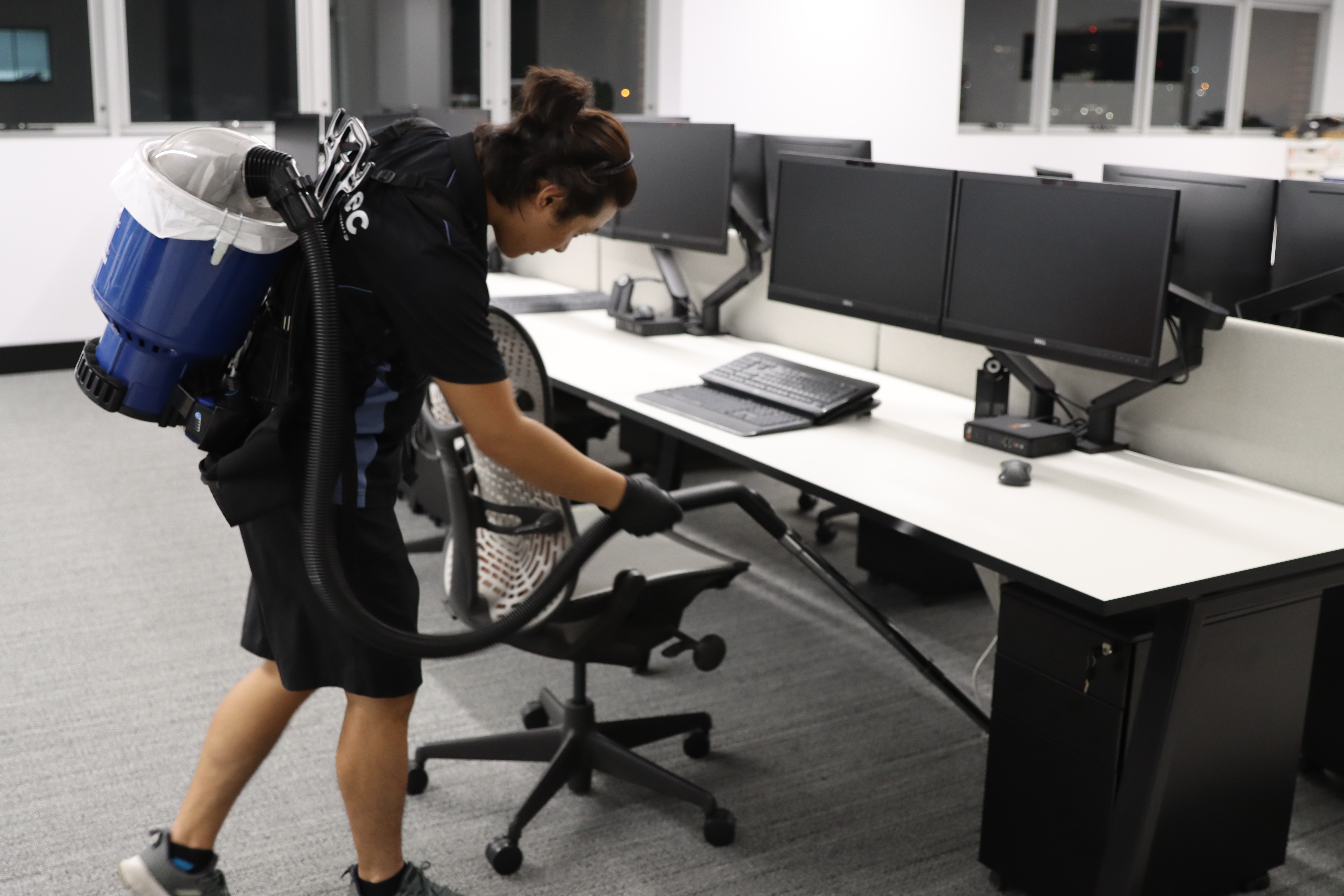 A good cleaner will leave your premises looking and feeling fresh, clean, and hygienic. But with all the areas included in your office or workplace, how can you really know if everything is clean? And that what you're paying for is a good quality clean?
With over 27 years of experience in the commercial cleaning industry, we at In-Tec Commercial Cleaning understand what it looks like when your cleaners are offering a high-quality service. We've also rescued enough clients with cleaning emergencies to know when other cleaning companies have dropped the ball.
In this article, we're going to share with you the 6 tell-tale signs that your commercial cleaner is providing you top-quality service.

Your cleaners do the little things

The first important thing to look out for is the attention to detail your cleaners are trained to deliver. As we all know, the little things that are done in the background are important and shouldn't be overlooked.
Now you might be wondering, 'what kind of attention to detail?' you should be looking for?
Things to look for are: dusting behind computer screens, cleaning nooks and crannies - you know the corners of a carpeted area or behind a toilet, cleaning drain holes in sinks - no brown staining in the kitchen sink, cleaning underneath the toilet seat, and cleaning glass doors including side panels (no smearing). It also means your cleaner is trained enough to know that being on their hands and knees scrubbing the toilet to remove all dirt and bacteria (yes a good cleaner does this) is what it takes.
There are plenty more things to mention (tops of fridges being one of them), but this gives you a rough idea of what it means to be a thorough and good cleaner.

Your cleaning company can and will conduct ATP tests
First off you may ask what is ATP?
Adenosine Triphosphate (ATP) is found in all organic materials and provides energy to living cells. Within the cleaning industry, ATP testing is important as it can test bacteria load counts on surfaces. A count of below 250 parts per million is a good outcome, however, below 100 parts per million is what should be aimed for. Some will say zero and whilst this is good, it is not feasible to achieve this every clean.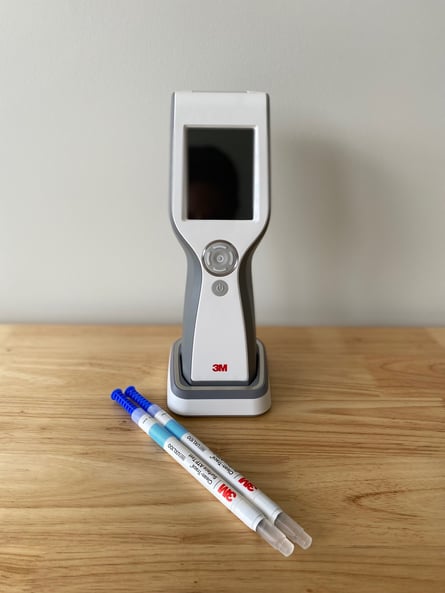 What does an ATP test do?
To the naked eye, a surface may look clean, however, there is just some debris and contamination that we physically won't be able to see. That's where ATP testing comes in.
Using the tester, a small area is wiped over collecting a sample of what is on the surface. It is a highly efficient way to make sure that your cleaning process and procedures are working effectively. Once the sample is collected it is put into the machine (like the one we use above) and within ten seconds the result is known. It is a quick process that can provide both you and us with qualitative data to prove the cleaning is done as it should be.
If your cleaning company is offering to conduct ATP tests then you will know they're doing a good job, after all, they are willing to put themselves to the test.

Your cleaners use the right equipment and products
Determining whether your cleaner is doing a good job also comes down to the equipment and products they use.
The three most common thought of items a cleaner uses are:
Microfibre cloths
Most commercial cleaning services have or should equip their cleaners with quality launderable or disposable microfibre cloths. (Now, we're not just talking about a pack of microfibre cloths from Bunnings. But a good quality set such as those from Rubbermaid, i-team, or a specialised supplier like Microfibre World.)
A good-quality microfibre cloth will have a trio split fibre that can remove 99.99% of dirt and bacteria. That said, a good quality cloth needs to be clean to be able to work so if your cleaning company is using launder-able cloths they will need to be washed as per the correct standard.
An example of a good microfibre system is supplied by Rubbermaid (launder-able and disposable). These microfibre cloths have built-in scrubbers that can reach into the grooves and crevices of surfaces that aren't visible to the naked eye and are tested to remove 99.5% of bacteria and viruses (including the Coronavirus family of viruses).
Equipment


Mops
Gone are the days of what we all know as the mop and bucket, string mops, or corded vacuums - or at least they should be.
The use of the old-fashioned mop and bucket should be a thing of the past. A well-equipped cleaner should be using a flat mop system along with a quality microfibre cover, as pictured below.
A quality flat mop will ensure the corners and edges are cleaned (leaving no telltale mark on the bottom of the wall) and a quality microfibre cover will leave a floor clean, or at least cleaner than the string mop.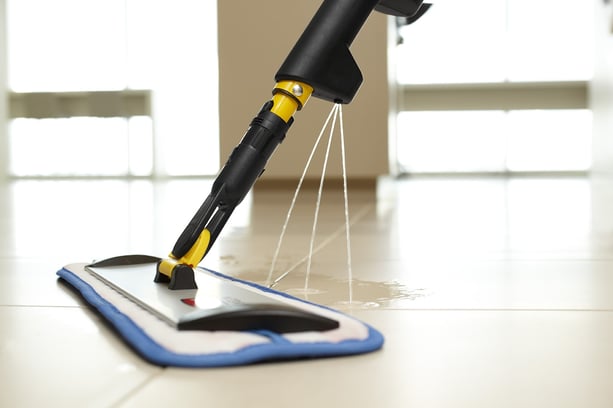 Vacuums
Whilst all vacuums vacuum (at least to some degree), there have been technological advances that should be used, especially when it comes to commercial cleaning.
In commercial cleaning, the use of a corded backpack vacuum has been normal practice for many years. However, advances in battery technology has meant that a good cleaner nowadays should be using a battery vacuum, as after all, they help with productivity.
The other advance that has been made is the filtration of a vacuum. The latest battery vacuum has a stage 4 HEPA filtration system (this is if the correct bags are used). What this means is that it captures dust down to .5 micron size, resulting in less dust in your office.
Another non-related cleaning improvement is less damage. Have you ever noticed the black mark that appears on the corners of plaster walls in your office? This is caused by the cord from a vacuum, something that does not happen with a battery vacuum.
Chemical-free solutions
In today's world, there is really no reason that a chemical like bleach should be used in day-to-day cleaning. The system used should be sustainable and certified.
Whilst there are many options to select from we will profile two options:

Chemical-free system
A system that has been approved by Good Environmental Choice Australia (GECA) is Tersano. The Tersano unit produces Stabilised Aqueous Ozone (SAO) System. This cleaning solution has a dwell time of 1 minute and works 3000x faster and 50% stronger than bleach. Unlike bleach, it leaves no toxic chemicals in the air. It eliminates germs, stains, odours, mould, and mildew, and is also proven to quickly kill bacteria and viruses such as E. coli and more. Finally, the Tersano solution has been verified to eliminate 99.99% of COVID-19.

Chemical-free solution
A solution that has been approved by Good Environmental Choice Australia (GECA) is Enviroplus. The Enviroplus system is enzyme-based and works completely different from traditional chemicals. The use of enzymes breaks down bacteria and viruses, using active microbes to leave surfaces cleaner and safer. Enviroplus is fully organic and safe for both your team and ours. Whilst Enviroplus has a fragrance to it, these are a part of the natural enzyme at work and should not be confused with a masking fragrance that most traditional chemicals use.
If your cleaners are using the Tersano or Enviroplus System, or another GECA certified green cleaning system, then you know they're doing a good job.

Your cleaners know what to clean and for how long
Some jobs are quicker than others, it's understandable. However, it's important to make sure that your cleaner is focussing on the things that need to be done. After all, if something is not dirty then it stands to reason that it should not need to be cleaned.

If your cleaners are using their time effectively then you will notice. Rubbish bins will be not only be emptied but will also be wiped free of any spills and the liner if needed will be changed, toilets will be cleaned, kitchens will be tidy, and surfaces will be sticky-free. Good cleaners will clean what is needed, but not waste time in areas that do not need it.

A good commercial cleaner should be trained to understand what needs to be cleaned and how often. In other words, nothing will be forgotten. If your cleaners are doing a good job, they are:

1. Time-efficient
2. Give your site the kind of attention it needs


It's as simple as that.

You know your cleaners
Have you seen a different cleaner after cleaner assigned to your site?
You know your cleaner is doing a good job when they become part of the team. So, what does this look like? The only way to describe this to you would be to give you a scenario.
You know your cleaner becomes a part of the team when they know that Joe down in Human Resources always spills sugar in the kitchen. You know your cleaner is part of the team when they know Kathy tends to eat biscuits at her desk and leaves crumbs. They recognise everyone's habits and cleans up their mess without taking a second guess.
Of course, having the cleaners in a company uniform helps to distinguish who is who.
As you can see, having the same cleaner helps in keeping consistency with the standard as they know the ins and outs of your office better than anyone.
Good commercial cleaning companies do what they can to match the same cleaner with the same site, so clients don't get confused. Not only does this make for a consistent clean, but a happy and content team member.


Your cleaners deliver a high standard ALWAYS
If your cleaner is providing consistently high standards during every clean, then you know they're doing a good job. This may include all the little things that have been mentioned throughout this article, but could also include:
Cleaning surfaces with a clean microfibre cloth
Complying with industry standards
Applying the correct cleaning techniques
Ensuring high-touch surfaces are wiped and disinfected as needed
Does your commercial cleaner pass the test?
The most important thing to take away from all this is that if you find your cleaners are achieving a high standard in all 6 factors, then they're doing a good job. They are taking care of you, your employees, and your clients.
If you're finding that this is not the case, then there may be some things you need to reconsider. You may just need to go back to your commercial cleaning company and let them know that specific needs haven't been met.
Here at In-Tec, our commercial cleaners are very passionate about their job and strive to provide a good service to their clients. At In-Tec, our cleaners undergo detailed training in all aspects needed to perform the tasks.
If you want to get in touch with one of our helpful team members, schedule a call here.