What to Expect from a Commercial Builders Clean [tasks + process]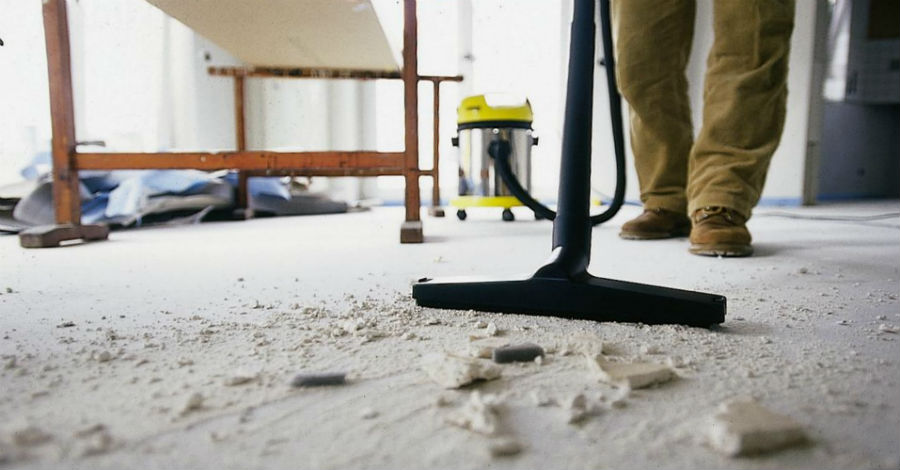 Have you recently had a building constructed or parts of your workplace extensively renovated?
Have the builders left you with enormous amounts of dust and debris around your site?
Construction dust gets everywhere, even with workers who clean up after themselves - it's inevitable!
You know, all those dust and wood fibres stuck at every corner of the site? Paint splashes on the floor and cabinets? A huge amount of rubbish that needs to be thrown away?
Does it seem like it would be impossible to clean it all up?
Although it's not uncommon to have all this stuff lying around after a new build or renovation, it does need to be cleaned properly before you move into your new workplace.
After all, you don't want to be left with the hassle of cleaning everything up – this is where a builders clean comes into the picture.
You may be thinking, "Okay, I think I need a builders clean done, but I'm not really sure what it is and what it entails…"
And that's why we're here! At In-Tec, we've helped guide many clients down the path of a builders clean in terms of what it is, the actual process, and when they might need one done. So, what better way to answer your questions than by breaking down a builders clean from start to finish.
What is a builders clean?
Often the term builders clean can be quite confusing for those unfamiliar with the cleaning industry. Does it mean cleaning the exterior of the building? Do the builders clean the building?
No really! What does it even mean?
In fact, a builders clean is none of the above.
In the world of construction, buildings get messy with rubbish, plaster dust, paint, grout, and drill shavings. Before handover, the site needs to be professionally cleaned to remove all the debris caused by the construction work. This is when you would need a builders clean performed.
A builders clean is actually a post-construction clean which means extensively cleaning the premise that has been constructed from top to bottom. In other words, it's a full floor to ceiling clean – absolutely nothing is missed.
At In-Tec, we think of a builders clean as every periodical you could possibly do, and a spring clean all in one.
Our team of highly trained cleaners specialise in builders cleans for commercial properties such as office complexes, warehouses, healthcare centres, education facilities, and apartment complexes.
The responsibility of a builders clean exceeds your regular workplace cleaning service – it's more demanding and in-depth.
What are the two stages of a builders clean?
A builders clean should never be completed in one stage.
It is always two – an initial builders clean followed by a final clean (otherwise known as a pre-handover clean).
The first stage gets rid of the grunt of the work. Without giving too much away, any cleaning task you can possibly think of is completed! Read on to the next section of the article to find a specified list.
Whilst the second stage touches everything up. For instance, it's common for some minor defects to be rectified by the builder or additional work to be done on the site after the initial clean. This can cause small amounts of mess to be made such as timber shavings or extra debris or dust lying around hidden somewhere. This is when our cleaners will go through the entire site to make sure all these 'little things' are taken care of.
A final clean is the only way to ensure the project is ready for handover and is entirely clean for the client.
But what cleaning tasks actually go on during these two stages? What will be done?
Let's find out.
What cleaning tasks are conducted during a builders clean?
We've gone through and defined what a builders clean is and the two cleaning stages.
But you're probably more eager to find out what a cleaner actually does when they perform a builders clean, right?
Unlike your regular workplace clean, a builders clean provides a one-off, comprehensive clean for the entire premise.
So, what does this exactly entail?
To break the specific tasks down for you, we've compiled a complete checklist that explains what cleaning tasks our team completes in a builders clean. However, keep in mind that this is a general overview of the tasks we would complete. As every construction project is different in size and scope, we tailor our approach to whatever it is you require.
Remove all rubbish and debris
Remove all tape, labels, and plastic coverings on windows, fixtures, etc.
Wash interior and exterior window glass
Conduct a full glass clean
Clean all windowsills, and window frames
Clean all skirting boards, doors, door frames, and door tracks
Wipe down walls and ceilings
Wipe clean all blinds
Dusting and high dusting
Vacuum and mop all floors
Deep clean all tile floors of any paint, dust, and plaster
Polish or strip and seal vinyl flooring (if required)
Clean all power points light switches, and door handles
Scrub bathroom and kitchen tiles, remove grout defects
Scrub and clean kitchen sinks and countertops
Clean entire amenities including the toilets, urinals, sinks, cubicles, etc.
Polish stainless-steel fixtures
Make sure the whole property is completely free of builder's dust
In a nutshell, all surfaces that you can think of are cleaned and sanitised.
What order are these builders' clean tasks conducted in?
A cleaner should always start cleaning from the top then to the bottom. Why is this you may ask?
It's simple – dust and dirt fall from the top down. The dust from the ceiling eventually falls to the floor. This is why a good commercial cleaner will always start cleaning the highpoints first. This includes tasks such as cleaning and washing ceilings and walls, and high dusting high window ledges, and recess ceiling voids.
Did you know that amenities are typically referred to as a 'biohazard transfer station?'
If we take this approach that amenities are home to many germs, bacteria, and viruses, then it makes sense to clean the areas that are likely to be the dirtiest first. This is why a trained cleaner will always start with the toilets and urinals after they've cleaned the highpoints.
Although the construction may be a new build, it's more than likely that the tradies used the amenities while on site which is why the entire amenities are thoroughly cleaned.
After the cleaner has gone through the amenities, they will then work their way down to mid-level surfaces such as cleaning glass windows to remove any excess residue, smudges, and spots, benches, counter-tops, cabinetry, and any other surfaces.
Finally, the floors are vacuumed and mopped to remove any remaining dust and dirt. This removes all allergens from the site and improves the overall hygiene of the space. Of course, if needed, carpets will be steam cleaned, tiles will be scrubbed, and vinyl will be stripped and sealed.
What equipment and products are used for a builders clean?
But wait, obviously the cleaners conduct all these tasks, but with what exactly? What equipment are they using to get the job done?
At In-Tec, we use quality microfibre cloths and GECA approved or chemical-free solutions to wipe down and sanitise all surfaces. For vacuuming and mopping, we use Pacvac's HEPA 4-stage filtration vacuum and quality microfibre flat mops from Rubbermaid.
A good commercial cleaning company will ensure they are using the right cleaning gear to guarantee all debris, dust, and germs are removed from the site.
Why you need a builders clean done on your site
You've been waiting months or maybe even years, and finally, the builders are done with building your new workplace or renovating your current one. Great! But what about the mess they left behind?
Who's going to take care of all that?
A professional cleaning company, that's who!
They'll make sure all debris is removed from the site and all surfaces, floors, and walls are wiped down and sanitised.
In other words, the whole site will be left completely clean and ready to go.
At In-Tec, we do just that. Our team of cleaners are trained and experienced in builders cleaning and know how to get the job done properly.
If you're considering having a builders clean performed on your site, schedule a call with Paul or Caitlin to find out more. We're happy to answer any questions you may have about the process.