Common Area Cleaning – Tasks and Processes Involved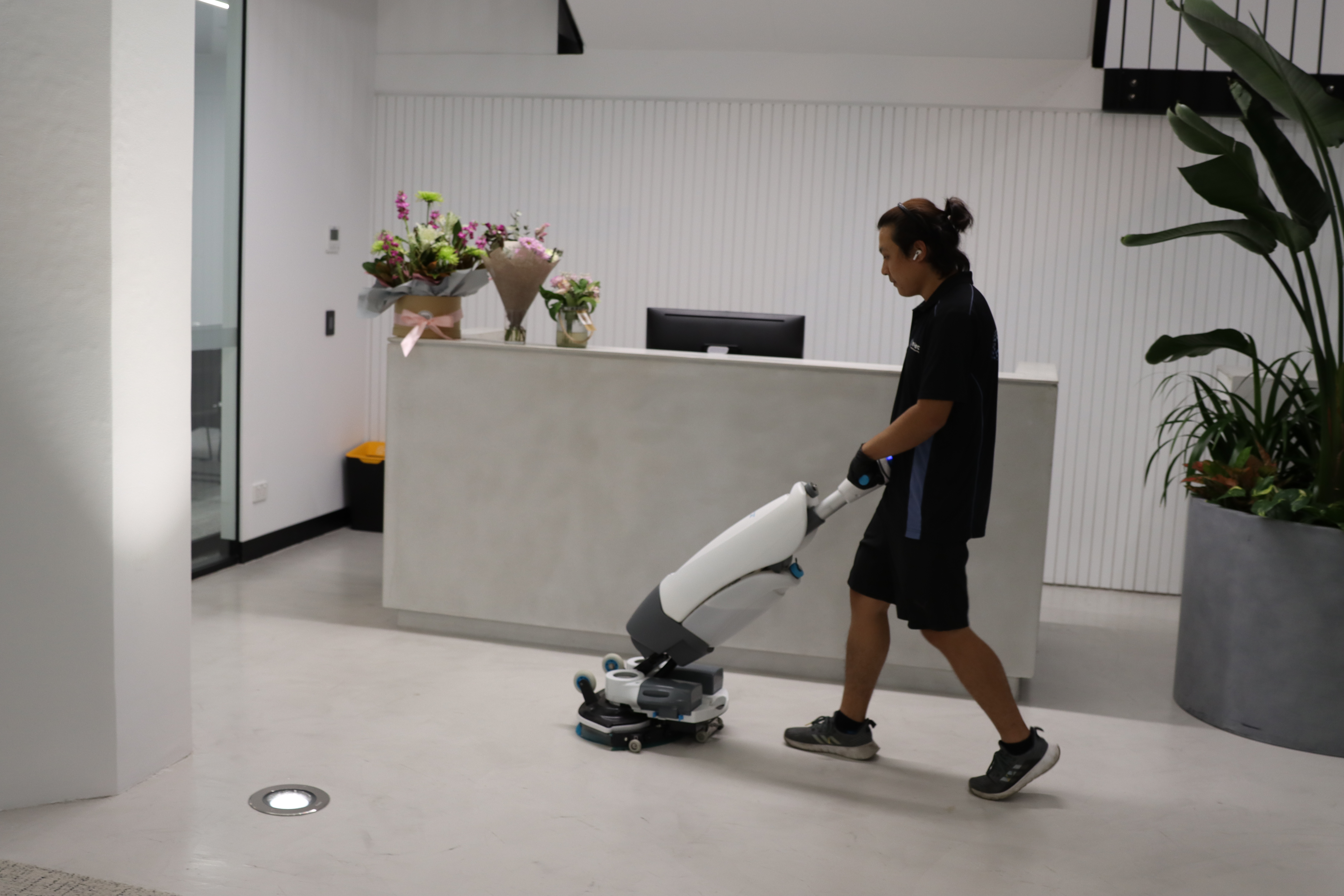 Shared spaces get dirty really fast.


After all, think of all the people who pass through or use these areas every day…and what they might leave behind.


Dirt and mud stains on the floor, marks on the walls, fingerprints on handrails and lift buttons, dust on the stairs, just to name a few!
Let's not forget about common area amenities.

Do we even have to explain all the reasons why common area toilets can get gross in no time? With so many people using the shared amenities, they can become a breeding ground for germs, bad odours, and rubbish and debris.

You wouldn't want your employees, let alone your clients to enter your workplace and see all of this, would you?
Have a look at the common areas in your building. Are they dirty? Do they need cleaning?
It's important to keep your welcome areas looking…well, welcoming! Common areas are typically the first place where your clients will get their initial impression of you and your workplace. This is why these areas need a lot of attention when it comes to cleaning.

Plus, don't forget that these areas are generally exposed to more traffic and soiling than other parts of the workplace.

So, what's actually involved in common area cleaning? Which spaces do we clean, and what's the process?

If you're wanting to find some answers to the questions above, then you're in the right place. We've gone through common area cleaning with hundreds of clients before so we're here ready to pass our knowledge onto you.

Let's get stuck into it.
What parts of common areas are cleaned?
So, what do you classify as common areas? Are all these areas cleaned?

You may find that some commercial cleaning companies consider common areas to be spaces for employees to meet and socialise. At In-Tec, we call these areas staff breakout rooms which usually encompass kitchens, recreation rooms, lounge rooms, etc.
What are common areas then?
In a nutshell, think of common areas as those spaces that can be used or benefit all tenants and visitors such as:
Building entrances and exits
Stairs
Lifts
Foyers/lobby's
Shared amenities
Carparks
Common areas can also vary in size – maybe the building is only 1 floor so there are no stairs or lifts and only one set of shared amenities. Or maybe, the building is 5 levels high, has two main lifts, and a set of shared amenities on all floors.
How many floors is your building?
What are the main tasks a cleaner should do in common areas?
How hard can it be to clean common areas? Surely it's as simple as doing a quick vacuum and mop? And maybe a flick of a rag here and there?
Well, let's think about it from this perspective.
The 6 common area spaces mentioned above are all completely different. Cleaning a toilet is different from cleaning a foyer. Cleaning a set of stairs is different from cleaning a lift.
What I'm saying is that our cleaners need to cover off on multiple spaces in one go/clean.
So, cleaning common areas is actually not as simple as it may seem.
How do we clean common areas then? Is there a particular process the cleaners follow?
There are 5 main tasks our team of highly trained cleaners perform when they clean common areas. They include:
1. Emptying bins
The first task any cleaner should be doing is emptying the common area bins and picking up any loose rubbish off the floor.
Whilst the cleaner is doing this, they're also taking mental notes of any other tasks they may need to address whilst they're on site.
2. Clean the amenities
Did you know that amenities can or maybe should be referred to as "biohazard transfer stations?"

We all know that there are a lot of nasty and unpleasant things in amenities like germs, bacteria, viruses, and foul smells. This is why it makes sense to clean amenities first as they are likely to be the dirtiest.

A trained cleaner will always start with the amenities and then move on to the rest of the common areas.

Within amenities cleaning, there is a 6-step process our cleaners follow which is as follows:

1. Emptying bins
2. Re-stocking consumables
3. Wiping down and scrubbing surfaces
4. Vacuuming
5. Mopping
6. A final check

🔍 Related Resource:

If you're looking for a detailed process of how our cleaners complete the above 6 tasks in amenities, I highly recommend reading our article Commercial Amenities Cleaning Task List. It even mentions all the little things a cleaner should be taking care of… think of this as a little bonus of information!
3. Wiping down surfaces
Next up, our cleaners go through the rest of the common areas wiping down all surfaces with a green microfibre cloth, GECA approved, and/or chemical-free solutions.
So, which surfaces do they clean?
Well, a cleaner will generally wipe down the following surfaces:
Entrance/exit doors
Handrails (including the underside)
Stairwells
Walls that go up the stairs
Outside of fire cupboards
Fire stairs handrails (including the underside)
Lift button and controllers
Polish stainless steel lift doors
4. Vacuuming
All common areas are detail vacuumed during every clean – floors are vacuumed edge to edge, corner to corner. At In-Tec, we use Pacvac's commercial backpack vacuum cleaners. They have a HEPA 4-stage filtration system and can eliminate 99.95% of dust and allergens.
Why is this?
Common areas tend to have a constant flow of foot traffic due to the number of people visiting and using these spaces. This means that dust and dirt can build up quite quickly, especially if there are several different tenants in the building.
Whilst vacuuming, our cleaners will also usually have a pre-moistened cloth in their hand just in case they see any other smudges or marks they may have missed.
5. Mopping
Here's a fun fact.
There is only one way to mop a floor – edge to edge, corner to corner. The whole floor is mopped, regardless if it seems clean. Our cleaners always have enough microfibre mop covers so that they can be changed and disposed of when needed.
Some of our sites, particularly the larger ones, have an i-mop XL on site. The i-mop is generally used to scrub the main floor, and then a microfibre flat mop is used to mop edges and hard-to-reach spots.
Set weekly/monthly common area cleaning tasks
As humans, we all tend to have set tasks we wish to complete every week or month. Whether it be set tasks for work, home, fitness, or anything else, we've all got them.
The same can be said for common area cleaning.
Weekly tasks that our cleaners conduct includes (but is not limited to):
Checking inside of fire cupboards
Checking fire stairs
Thorough blow of carparks
Litter picking gardens (unless there is a visible amount of rubbish that needs to be picked up straight away)
Emptying smoker area ashtrays
Whereas monthly cleaning tasks can include vacuuming the fire stairs to keep them clean.
Why are common area cleaners trained differently?
Trained differently…. what on earth do you mean by this?
Common area toilets tend to be more heavily used especially when multiple tenants are feeding into one set of amenities. For instance, the building we work from has 5 tenants that use the same upstairs amenities – that's approximately 100-150 people going to the toilet every day!
So, what I'm saying is that these amenities can be harder to clean because there are all sorts of people using them. All companies have different company ethos and values. To give you an example, some tenants may have an ethos that is respectful of other tenants. As in, they make sure to leave the amenities clean after they've finished. Whereas other tenants may not have this ethos and find it acceptable to leave paper towel on the floor and just a general mess.
Have you noticed anything like this in your common area amenities?
The same can be said for other common areas too. Foyers, entrances/exits, and stairs are all susceptible to dirty shoes, muddy shoes, and dust from tenants who have different ethos's – they have less care factor about keeping common areas clean for everyone.
The above example is why cleaners need to be trained differently in common areas, especially amenities, as they have to handle a lot more dirt, dust, etc.
What does quality common area cleaning achieve?
In a few simple points, there are 2 main goals that quality common area cleaning achieves:

1. Actively improves the hygiene of your workplace - keeping your team productive and happy
2. Ensures your site is clean, not just looking clean - keeping all who visits the site healthy

Why is common area cleaning important?
Have you ever walked into a building common area and thought, "hmm it's a little (or a lot) dirty in here?"
Do you think any of your employees or clients have ever thought the same about your building common areas?
Common area cleaning is important for two main reasons:
They are the areas that let you make a positive first impression on clients
Common areas can get dirty real fast – that's what happens when multiple people are using the same entrances/exits, stairs, foyers, and amenities all day every day
A good commercial cleaning service will leave your common areas clean, not just looking and feeling clean. At In-Tec, we tailor-make our solutions and services to suit your workplace requirements.
Feel free to download our printable checklist that includes all the tasks your commercial cleaner should be doing in all your common areas!
Do you think we may be the right fit for you? (no pressure if we aren't!). If so, schedule a call with us. We're here to answer any other questions you may have about common area cleaning or commercial cleaning in general!