Education Cleaning Service Checklist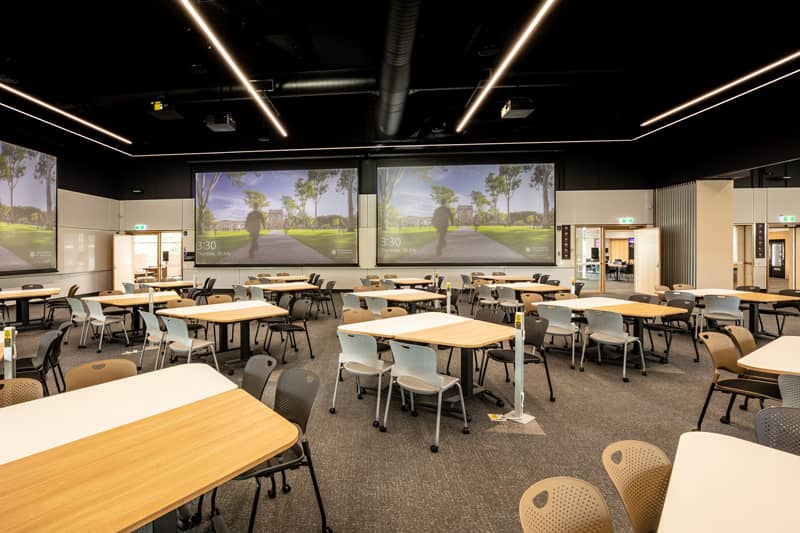 Education facilities have long been referred to by many people as 'germ factories' because of how easily germs and illnesses are passed from student to student in close quarters.
When one student gets sick, there's a high chance that at least one of their classmates will also come down with the same illness.
How do we prevent this from happening?
We can't expect the teachers or lecturers to go around cleaning all the tables, chairs, and amenities after the students have left for the day. The teachers are there to do one thing, and that's teach! So this is where a professional commercial cleaning service comes in.
You may be wondering, what tasks are involved in education cleaning? Which parts of my facility will they clean? Will they clean the whole thing or just certain areas?
During our 27 years of business, we have guided many clients through the entire education cleaning process. In order to answer all your questions, this article will explain what tasks are involved in education cleaning and why it's beneficial for any and every place of learning.
Let's get learning!
What types of education providers do we clean?
There are certainly a lot of education providers out there so I understand that it might be hard to imagine what learning environments a commercial cleaner actually cleans.
However, you are in luck. To make it simple for you, we've provided a list below of the education facilities we clean.
Early childhood centres
Preschools
Primary and secondary schools
Universities
Flight service schools
Or any other place of learning!
What areas within schools and universities are cleaned?
It's easy for us to say, "We clean the whole school campus or university." But what does this really include?
As this is probably one of the most important questions you have lingering in your mind, we're going to answer it right here, right now.
The areas/spaces we clean in schools and universities include:
Classrooms
Lecture rooms (universities)
Training areas (universities)
Staff and administration offices
Amenities
Hallways
Lunchrooms and outdoor eating areas (benches, tables, and seats)
Common areas such as entrances, waiting rooms, and reception
Gyms
Fire stairs (if applicable)
Before we make our way to the next section, I do want to mention that other places of learning typically have the same areas within their site. If they have any additional spaces that aren't mentioned above, they of course would also be cleaned.
🔍 Related Resources:
Cleaning offices, amenities, and staff breakout rooms are the same for any workplace.
If you find yourself wanting to read more about In-Tec's in-depth step-by-step cleaning process for these areas, take a look at the 3 articles below. Especially since most, if not all, learning centres will have these 3 areas, it may be beneficial to take a look at how these spaces are cleaned specifically.
What Does Commercial Office Cleaning Include? [Task List + Definition]
Commercial Amenities Cleaning Task List
What Cleaning Tasks Are Involved in Staff Breakout Rooms?
Happy reading!
What tasks should a commercial cleaner complete in education cleaning?
Let's go through some of the thoughts you may be thinking when it comes to education cleaning.
"Some education facilities can be huge! How is it even possible for a commercial cleaner to get through everything?"
"How will they clean my facility? And what specific tasks do they do?"
"What do they clean?"
These are great questions to ask, and they all come down to how we do what we do. So, let's go through In-Tec's education cleaning process.
Although schools and universities can be massive with multiple buildings spread across a whole campus, it's our job to make sure your site is kept clean, not just looking and feeling clean.
How do we achieve this? By going through your whole site and cleaning every single surface and every floor. Generally, most commercial cleaners follow a 5-step process when cleaning any workplace, which includes:
Emptying bins
Cleaning surfaces
Vacuuming
Mopping
A final check
This is then broken down into smaller tasks the cleaner must complete.
To make things a little simpler for you, I've merged all education facilities in one when it comes to the list of what we clean within education facilities. They include, but are not limited to:
Empty all bins
Clean the amenities
Wipe clean all student desks (even the fold out ones in university lecture halls)
Wipe clean lecturer's/teachers table or desk
Wipe clean backs of all chairs
Spot vacuum the seats if needed
Wipe clean doors and handles
Clean the glass windows and windowsills
Vacuum the floors (ensuring underneath the desks and chairs are done)
Mop the floors (ensuring underneath the desks and chairs are done)
Wipe clean any visible marks on the walls
Wipe clean any cabinets
Wipe clean gym seats
Feel free to download our printable checklist that includes all the tasks your commercial cleaner should be doing in education facilities!
Ultimately, how many areas you want us to clean and how detailed you want us to go all comes down to how much you want to pay. Of course, the simpler the scope of works, the less dirt, dust, germs, bacteria, and viruses we will be able to remove.
Why scheduled periodicals are vital for education facilities
Think about all the people who attend, walk through, or visit your education facility every day. I have no doubt that it's quite a lot, and you probably can't even put your finger on how many people it actually is.
What does high-traffic have to do with cleaning?
In a nutshell, the more people you have attending your site (i.e., high foot traffic), the dirtier your workplace gets. And this is where scheduled periodical cleaning comes in.
Scheduled periodicals are done as part of education cleaning and should always be included within the scope of works. Within education cleaning, periodicals such as carpet cleaning and stripping and sealing need to be done twice a year to keep up with the level of dirt and debris. Whereas high pressure cleaning of pathways and areas where students might sit to eat their lunch needs to be performed at the end of every term.
At the end of the school year, it is recommended that shutdown cleans are performed. This is a high-intensity periodical that includes full detail cleans of the whole school to get it ready for the following year.
The importance of a clean learning environment
Without a clean environment, it is impossible to stop the spread of bacteria, viruses, germs, and infections such as the flu or measles within learning environments. Because schools and universities are high-traffic zones, germs tend to spread quite fast, and students aren't the only ones who can get sick. Teachers are susceptible to the same illnesses too.
Did you know that the flu virus can live on surfaces for up to 48 hours?
That means whoever touches the surface within that 48-hour window can get infected. That's a long time to have a virus lingering around!
Another important benefit of a clean learning environment is the overall effect it has on a student's learning experience. When a classroom is dirty and unkempt, it can negatively impact a student's performance in the classroom such as concentration and focus. But when learning environments maintain a high level of cleanliness, it leads to happier, better performing, and more productive students.
Wouldn't you want your students to be the best they can be?
Do I really need education cleaning?
Would you rather have students learning in a clean classroom or spending their time in an environment full of germs, dirt, and dust?
I know which one I'd prefer!
When we think of what makes an educational facility great, we often think about the quality of teaching and the type of facilities the campus has. But we tend to dismiss the importance of a clean learning space. At In-Tec, we ensure your school or university is kept clean, not just looking and feeling clean.
We believe that cleaning schools, colleges, early childhood centres, or any other educational facility is an important undertaking that should be taken seriously.
If you think we may be the right fit for you, schedule a call with Paul or Caitlin to talk about your specific requirements. We're happy to go through any further questions you may have. Speak to you soon.