How Do Professional Cleaning Services Clean Healthcare Centres?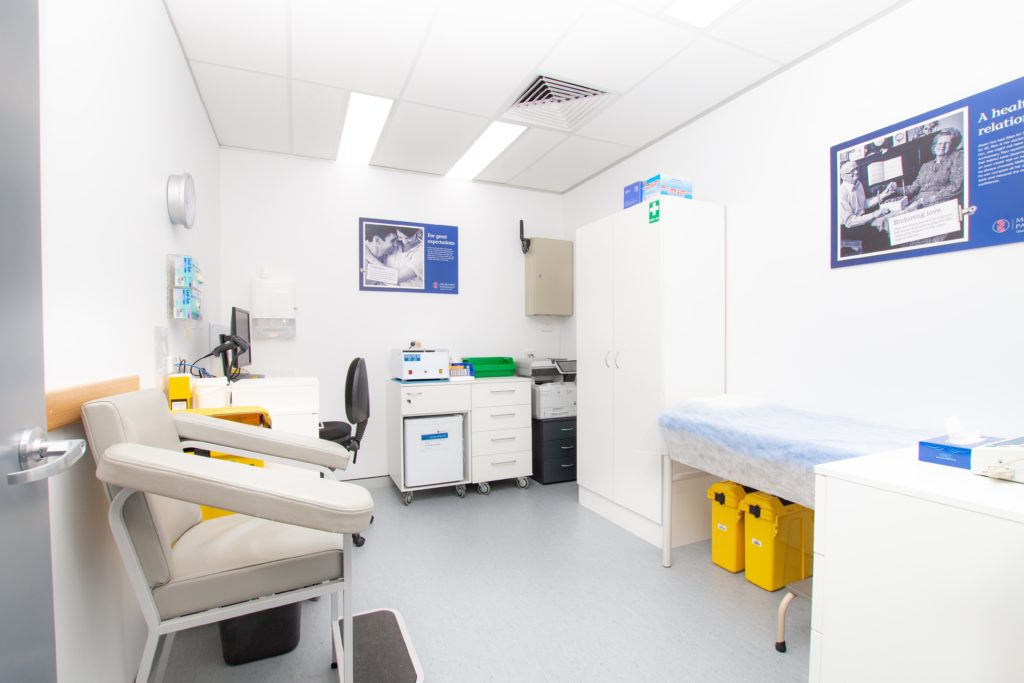 Why does quality healthcare cleaning matter?
It goes without saying that people wouldn't want to sit in a dirty waiting room, be examined in a messy treatment room, or have their health and well-being placed in the hands of a grimy healthcare centre.
How do you make sure this doesn't happen?
You already know that the appearance of your centre is an important influence in patient care. However, it goes beyond making your centre look and feel nice and clean. Your whole healthcare facility must be properly cleaned and sanitised (and disinfected when needed) regularly.
This is where a professional commercial cleaning service comes in.
It's safe to say that cleaning medical facilities is certainly not the same as cleaning your typical workspaces. So, how does it differ?
But wait, we are getting a little ahead of ourselves. The first things you're probably wondering is how is a healthcare centre cleaned and what areas are cleaned?
At In-Tec, we've guided many clients through these exact questions so we've decided to pass our knowledge onto you by writing a guide on how a professional cleaning service should clean healthcare centres. In this article, we will take you through the following:
What areas are cleaned
What tasks a cleaner should perform
How healthcare cleaning is different from office cleaning
Why we leave certain cleaning tasks to the healthcare employees
What areas are cleaned in healthcare centres?
When you walk into a healthcare centre, whether it be a pathology or doctor's surgery, there are a lot of different areas within the facility. And you may be wondering, "do they clean the whole centre? Even the treatment rooms?"
Typically, most commercial cleaners will cover a range of areas that include but are not limited to:
Reception
Patient waiting rooms
Treatment rooms
Amenities
Hallways
Staff kitchen
But don't be mistaken. Although it may seem that these areas would be quite simple to clean, healthcare cleaning is extremely different from any other type of cleaning.
How?
I won't give too much away as we do get into this further down the article. But I can give you a little clue as to one of the differences: Medical centres are generally more exposed to health and safety hazards.
What are the 6 main tasks a cleaner should do in healthcare facilities?
Now that you know what areas we clean within healthcare facilities, you may be wondering how we actually clean them.
Do we follow a particular process?
What equipment and products do we use to clean?
Will you actually clean everything I need to be cleaned?
Here at In-Tec, every cleaner we employ for healthcare cleaning is trained to follow a specific 5-step process. And although they may seem quick and easy to do, there is a lot of detail required as you'll soon find out.
1. Emptying bins
The first task any cleaner should be doing is emptying all the bins in each area and picking up any rubbish off the floor. After all, you can't vacuum or mop a floor until everything is removed.
In medical centres, especially in doctor's surgeries and treatment rooms, bin liners are taken out and changed every time no matter whether they're full or not. This is simply because you don't know what's in the bin – there could be needles, tissues with blood, or other bodily fluids which could pose a safety/health hazard for patients and employees. However, it is important to mention that we do not remove biomedical waste - this is handled by the doctor's surgery staff.
However, patient waiting room bin liners or reception bin liners do not need to be changed every time, only when they are dirty or showing old age.
2. Clean the amenities
Do you have amenities within your healthcare centre?
If so, this would be the next task our cleaners do.
As we all know, there are a lot of nasty things in toilets like unpleasant smells, germs, bacteria, and viruses. This is why, before wiping down any other surfaces within the centre, our cleaners begin with the amenities as they are likely to be the dirtiest.
Think about all the types of people that would use them and how often they would be used every day. I can assure you, it's a lot!
🔍 Related Resource:
If you're wondering how a cleaner should clean amenities, then take a look at our article on Commercial Amenities Cleaning Task List. It goes through what parts of amenities blocks a good commercial cleaner should clean, a detailed 6-step process our cleaners follow, and what little things should be taken care of regularly.
3. Wiping down surfaces
The next task our cleaners go through is wiping down all the other surfaces within the centre with a coloured microfibre cloth (colour depends on the area) and a cleaning agent called Oxivir. Unlike standard office cleaning, we use different chemicals in healthcare cleaning due to the nature of the site. If you want to find out more about why we use different cleaning solutions, read the below section on how healthcare cleaning differs from standard office cleaning.
Generally, the surfaces we wipe down in medical centres can include:
Waiting room chairs and tables
Reception front desks
Entrance/exit doors
Handrails (if applicable)
Walls that have visible dirt marks
Staff kitchen and lunchroom surfaces, e.g. tables, chairs, benches
4. Vacuuming
In the commercial cleaning industry, there is no such thing as a quick vacuum. It's not that simple.
A good commercial cleaner will detail vacuum all floors – edge to edge, corner to corner. In other words, nothing is missed. Additionally, a good cleaner will ensure they are using a HEPA 4-stage filtration vacuum whilst also ensuring the filter is clean after every vacuum. At In-Tec, we use Pacvac's commercial backpack vacuum cleaners which can eliminate 99.95% of dust and allergens.
Whilst vacuuming, our cleaners will also usually have a pre-moistened cloth in their hand just in case they see any other smudges or marks they may have missed.
5. Mopping
Similarly to vacuuming, there is only one way to mop a floor and that is edge to edge, corner to corner. Even if a floor may look clean, it is mopped regardless.
At In-Tec, our cleaners use quality microfibre mop covers and always have a sufficient amount handy so that they can be changed and disposed of when needed.
6. A final check
We are all guilty of going on one last patrol around our house before we leave for work for the day or for a weekend holiday. Just recently, I went away for the long weekend and walked through my house a couple of times just to make sure the doors were locked and the lights were turned off.
Did you know that cleaners do the exact same thing?
Before they leave your site, they go on one final check making sure they've cleaned everything, locked what needs to be locked, and most importantly, making sure the site is exactly how you would expect it the next morning.
How is healthcare cleaning different from your standard office cleaning?
Throughout the blog, I've been hinting at how there are many differences between healthcare cleaning and standard office cleaning. Healthcare cleaning is entirely different from any cleaning, whether it be warehouse, body corporate, and/or common areas. But for the sake of this blog, I'll stick to comparing healthcare with offices.
Let's find out why.
I want to highlight the 4 things you must have a heightened awareness of when cleaning medical centres:
There is a higher chance of bodily fluids and harmful germs to be cleaned up
Cleaners have to be mindful of sharp items, e.g., syringes, needles etc.
Cloth management can be completely different. The preference in healthcare is that the cleaners should be using disposable microfibre cloths for every area due to bodily fluids. Cleaners may also use yellow cloths for disinfecting – an add on to their other colour-coded cloths
Our cleaners use different cleaning chemicals for healthcare centres
In offices, rarely do you have to worry about any of these!
I want to draw your attention to the last point - cleaning chemicals.
Within healthcare centres, we use slightly different cleaning chemicals than offices (unless your site has Tersano SAO installed). Why? To put it simply, chemicals used in office cleaning wouldn't cut it for medical facilities. Let's explain this a little further.
In offices, you are cleaning and to a degree sanitising, but never disinfecting (unless necessary). However, in a healthcare environment, you are always cleaning and sanitising the entire site, and sometimes disinfecting when need be. For instance, some healthcare centres may ask you to disinfect surfaces such as treatment rooms – this all comes down to the client's preferences.
Is there a reason to disinfect a surface all the time?
The short answer is no. Surfaces only need to be disinfected when we know something or someone has come into contact with something contagious, for instance, COVID-19.
At In-Tec, we use Oxivir when cleaning healthcare centres, such as Sullivan Nicolaides Pathology, one of our clients. Oxivir is a hospital-grade disinfectant cleaner based on Accelerated Hydrogen Peroxide (AHP). This cleaning agent has a fast and effective cleaning performance and removes 99% of germs and bacteria.
Can you see the difference now?
Although most workplaces follow a similar 5/6 step cleaning process, medical centres have added risks and different cleaning protocols and techniques that must be followed.
Why we don't clean certain parts of healthcare centres
It might be to your surprise that there are actually some parts of healthcare centres commerical cleaning services don't typically clean.
Why? It comes down to two things.
The employees clean these parts themselves and therefore don't need to be professionally cleaned,
And/or, cross-contamination
Let's explain this a little further for you.
Imagine/remember the last time you were at a pathology centre, doctors' surgery, or X-ray centre. You most likely sat on a chair or laid down on a bed during your appointment. Now you may not see this happen, but after your visit, the doctor or nurse would've wiped down the surface ready for the next patient.
Why do they do it? It's as simple as we can't be there wiping down surfaces after every use, which is why the employees of the workplace do it.
For instance, we recently quoted a medical centre in Brisbane. When it came to their treatment rooms, all they wanted from us was to empty the bins, vacuum, and mop the floor. Every other surface within the rooms (e.g., the beds and chairs) were to be cleaned by the employees.
Another area we do not clean entirely is medical centre labs.
As you can imagine, there can be a lot of stuff going on in these areas – chemicals (possibly dangerous), syringes, test tubes, glass, amongst many other things.
As previously mentioned, we clean some of the Sullivan Nicolaides Pathology's in Brisbane. Within their labs, we don't touch/clean the benches or any surfaces where they are performing tests as it's their responsibility. This can include lab preparation tables, testing tables, etc. There are two reasons for this:
Limit cross-contamination
Doesn't affect their tests/results
The only areas we clean in labs are bins, sinks, and floors.
Why you need healthcare cleaning for your workplace
But why do I need a professional cleaning service for my healthcare centre? Is it really that necessary?
Well consider this. Firstly, healthcare facilities are high-traffic areas. This means there is a lot of dirt, dust, and debris coming into your site. Think about all the different people that visit your facility every day. It's quite a lot, right?
Secondly, your patients expect it to be clean every time they visit. After all, a healthcare centre's main purpose is to look after your patient's well-being.
Now do you think you need a commercial cleaning service? (hint: you definitely do!)
At In-Tec Commercial Cleaning, we recognise healthcare facilities require robust and rigorous cleaning practices to ensure the safety of practitioners, patients, and employees. We customise our professional cleaning services to suit your requirements.
Feel free to download our printable checklist that includes all the tasks your commercial cleaner should be doing in all areas of your healthcare centre!
If you're looking to get further information on healthcare cleaning and what we can do for you, schedule a call with Paul or Caitlin. We're happy to answer any unanswered questions or queries. Speak to you soon.