6 Common Mistakes When Hiring a Commercial Cleaning Service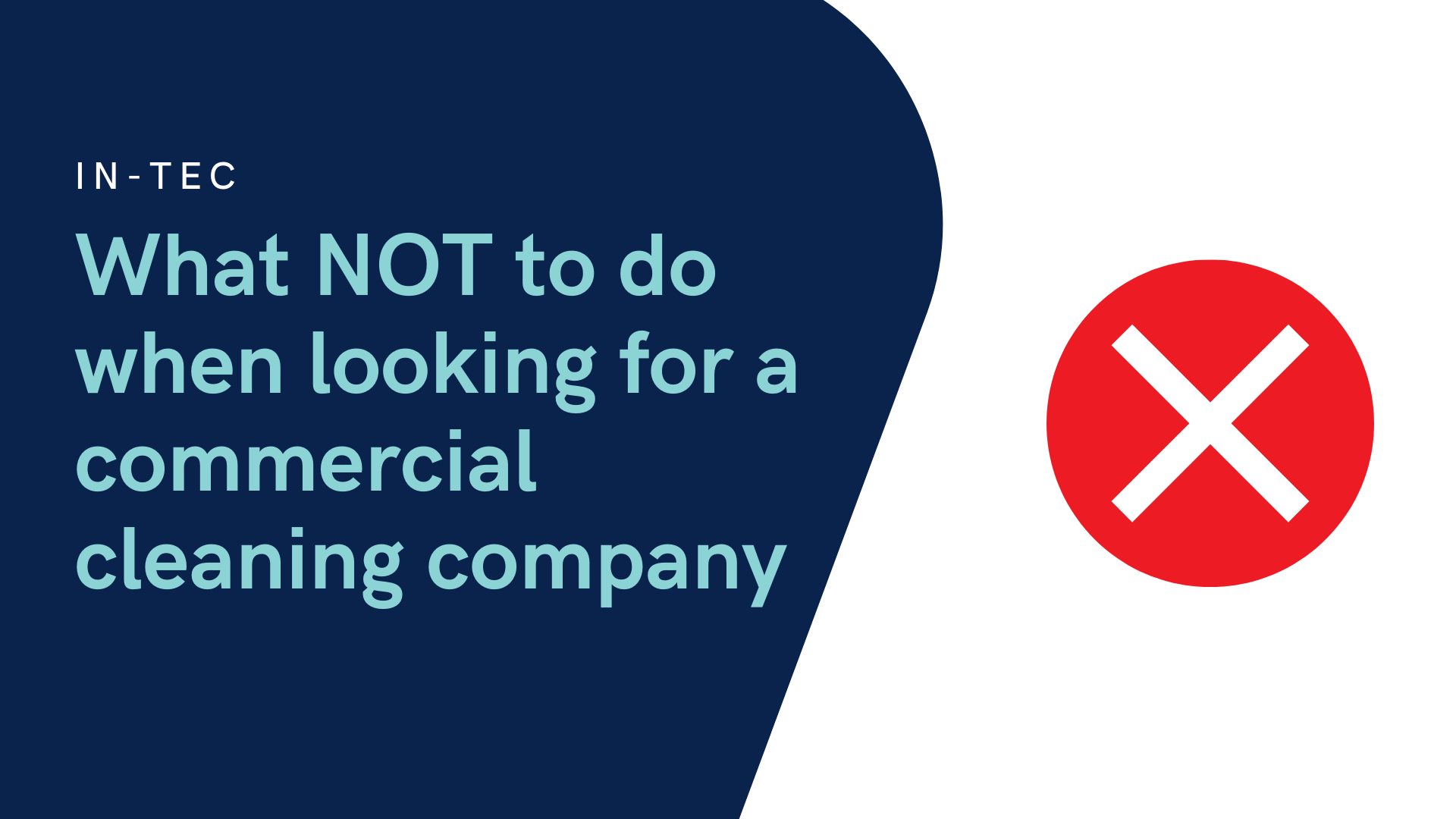 When it comes to hiring a commercial cleaning company, it's not as simple as typing into Google 'commercial cleaner near me.'
We can only wish it was that easy.
As a business owner right now, you probably already have your fair share of worries. And you certainly don't want to add the burden of choosing the wrong cleaning service for your site.
Hiring a commercial cleaning service is a decision that you should make carefully because failing to do so can be both frustrating and costly.
However, with a little research and preparation, you'll be able to find the right cleaning company for you.
At In-Tec, we've been operating long enough (28 years in fact) to know the mistakes people seem to make when looking at engaging a commercial cleaner. Read this article to discover the 6 mistakes you should avoid when starting the hiring process.
You'll be glad to know what to look out for!
The 6 mistakes you should avoid when hiring a cleaning company
We all make mistakes – that's what makes us human!
But that doesn't mean we can't avoid any mistakes from happening, especially when it comes to hiring a cleaning service.
In fact, here are the 6 things you should NOT do when employing a new cleaning company.
Choose the first company they find – don't shop around
You never go and buy the first house you see.
Why? Because how would you know that it's the best fit for you?
It might shock you, but I can say the same thing for a cleaning company.
You want to compare different cleaning services against one another to find the right one for you.
While one may offer one great thing, the other may offer something even better. How would you ever find this out if you chose the first one you laid your eyes on?
When comparing commercial cleaning services, you want to look at the following 6 points.
Considering these 6 points is a great way to get you started on comparing different cleaning service options!
Don't settle for the first one that pops onto your Google search just because you're in a rush.
Choosing a service based on price only
Going cheap isn't always the most effective option when it comes to cleaning services.
Don't get me wrong, it's perfectly okay to find a cleaning company that's within your budget, but at the same time, you don't want to only focus on the price.
What you often find is that businesses sacrifice quality by deciding to go cheap.
Cleaning companies that offer cheap services don't always provide the best results. Generally, this is because they're a contractor-based cleaning service that get away with underpaying their staff and not providing the right tools, training, and time.
Imagine if you were underpaid and not given the right equipment, training, and time to do your job?
Would you still deliver a high standard?
Probably not, and the same can be said for cleaners. If you choose the cheapest cleaning service, you're constantly going to have issues. And it is by no means the actual cleaner's fault, instead the cleaning company.
In other words, the savings you saw at the start become a huge headache in the end.
Remember, it's good to compare prices, but don't make a decision based solely on cost because in the long run, you won't get the outcome you're looking for.
🔍Read our article How Much Does a Commercial Cleaning Service Cost? to find out the hourly rates you can expect to pay for a cleaning company.
Choosing an inexperienced company
This one is quite simple.
You don't want to choose an inexperienced cleaning company that:
Look out for these to avoid choosing the wrong commercial cleaning service for you.
Failure to ask about previous clients
Just as you'd call references for prospective employees, you should call references for cleaning companies.
You want to find out what others have to say about them with proof to back it up.
You want to know if they're inexperienced (remember the mistake above), how they were able to help their clients, and the quality of service they deliver.
Ask to speak to their current or past clients to get some real client-centred feedback.
Hiring the wrong commercial cleaning service can lead to a lot of trouble down the path. It makes sense to take your time and check your potential cleaning companies' references.
Failure to read and understand the cleaning service contract/agreement
When you find the right cleaning company for you and your site, you'll enter a service agreement/contract.
Don't disregard it. Take the necessary time needed to read it and ask questions if need be.
You want to make sure that the cleaning service details are properly outlined in the contract such as:
🔍For more information on cleaning contracts, take a look at our article What Clauses Should Be In Your Cleaning Service Contract?
You don't want to make the mistake of signing off on something you haven't read.
Hiring a cleaning company that doesn't offer all services
You want to be sure that the commercial cleaning company you choose offers absolutely everything you'll need now and in the future.
You want them to be able to clean your site, but also complete additional tasks when requested such as periodical cleaning. This can include:
You want a cleaning service that can do it all. You don't want to have to contact multiple companies to do different jobs – how time consuming.
Imagine being able to deal with one contact for all your cleaning needs…how fantastic that would be.
Choosing the right commercial cleaning service in Brisbane
Don't fall into any one of these traps.
Find a cleaning company that values you and puts you first.
We get that you may need to find a cleaner fast. But don't hire the wrong one out of desperation. You don't want to hire a cleaning company to then fire them and start the process all over again.
No one has time for that.
Find a commercial cleaning service that fits the needs of your workplace.
If In-Tec looks like the right fit for you, schedule a call with us and we'll be happy to go through all your questions one-on-one.