Who is In-Tec Commercial Cleaning's Ideal Client?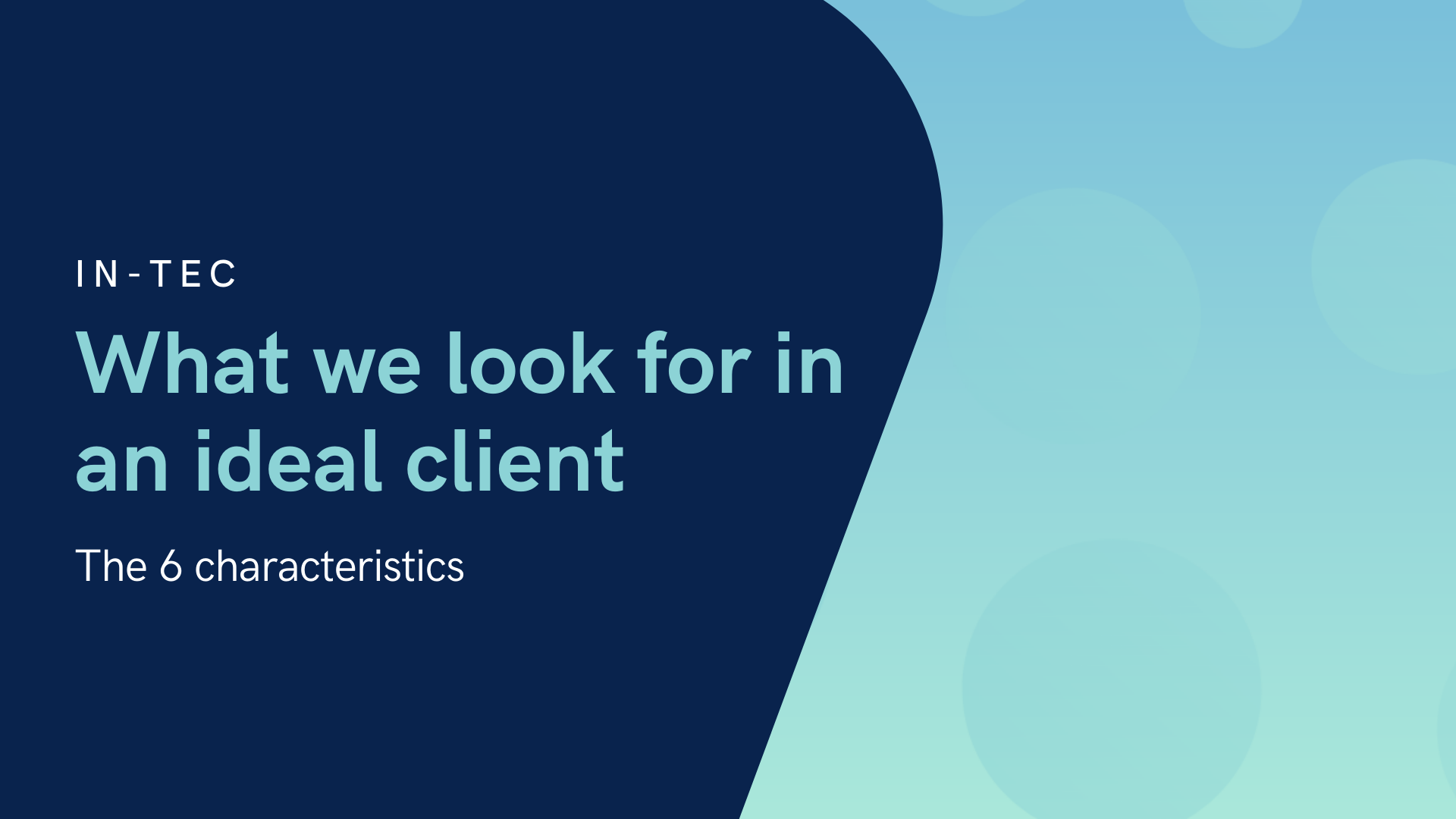 When you're looking to buy a new phone, you generally go into the store with an invisible checklist of what you want the phone to have.
Good camera quality
Screen size
Gigabytes
Battery life
Price
In fact, we do this whenever we're buying any type of product or service – yes, even a cleaning service! We look for the right price, if they specialise in what type of cleaning we need, and if they operate in our area.
But there is an opposite perspective that is often overlooked.
Does the cleaning company have an ideal client? Do they have an invisible checklist of what they'd like from the potential client?
Yes, they do!
At In-Tec Commercial Cleaning, there are six characteristics we look for when meeting with new clients. In this article, you'll get to know the qualities we look for, and if we are the best fit for you!
And if by chance we do sound like the right fit for you, we may be the cleaning company you want to work with.
Let's get into it.
The 6 qualities that determine our ideal fit
You're probably eager to find out whether you're the right fit for us.
I get it! I won't take up any more of your time!
Here are the 6 things In-Tec look out for when talking to a potential new client.
Someone who has cleaning problems that need fixing
Do you have concerns, complaints, or issues with your current cleaning service provider?
Are you sick and tired of never having the problem rectified and always feeling frustrated?
Well, stop wasting your time and money!
At In-Tec, we're happy to sit down with you to determine what we can do to make you happy (solve your problems), and get you back to never having to worry about your cleaning service. You deserve that.
However, if you don't have any problems and all you're looking for is a cheaper price, then In-Tec is not the right fit for you.
We're looking for a way to eliminate all your frustrations because if there are no problems to solve, you're not our ideal client.
You can tell that we love to solve problems!
Requires their site to be cleaned a minimum of twice a week
Deciding how often your site should be cleaned is a pretty big deal and a hard one to decide.
But let me make it easy for you.
In-Tec's ideal client will have a minimum weekly cleaning frequency of twice a week.
So, if you wish for your site to be cleaned once a week, then In-Tec is definitely not the right fit for you.
Although our minimum is 2 times a week, we find that most sites benefit from 3 or more. After all, we want what's best for you, our client!
🔍Eager to find out more about weekly cleaning frequency? Read our article How Often Should Your Site Be Cleaned? [Frequency + Guidelines].
They are a large commercial office or manufacturing/industrial site
Every business has that one thing they specialise in.
For instance, while one type of accounting firm may specialise in taxes, the other specialises in bookkeeping.
And it's the exact same when it comes to commercial cleaning companies.
At In-Tec, we specialise in cleaning large commercial offices or manufacturing/industrial sites. While we do clean a lot more types of facilities, this is our area of expertise.
If you're nodding your head because this is you, then you're the perfect fit for us!
We recognise that these types of facilities require professional cleaning services that have the right time, training, and tools to clean them properly.
We pride ourselves on the ability to clean at the highest possible level.
So, if you're looking for a house clean or any other type of cleaning outside the commercial range, then you're not our ideal client.
Value a long-lasting partnership
In a business, it's about people and the strong relationships that are formed. That is what matters.
With over 28 years of experience in the commercial cleaning industry, we've built some great long-lasting partnerships with clients. And this is exactly what we look for in an ideal client.
In order for you and your service provider to have a successful relationship, there needs to be value in a partnership.
We have a responsibility and that's to perform quality cleaning you can rely on day in and day out. So, we should be your behind-the-scenes partner! We know that things can come up, issues can arise – that's normal. But when that happens, partnership is what counts.
The trust that a concern is going to result in a quick and easy solution is the key to success in any service provider/client relationship.
If everything we've said aligns with your company's morals and beliefs, then you're In-Tec's ideal client!
Value that happy cleaners are important
I'm going to start off with a simple statement.
Happy cleaners = happy clients. All day. Every day.
To provide you with the best service possible, you'll need to have happy cleaners.
With the right tools, training, and time, you'll have happy cleaners that will deliver you an outstanding cleaning service.
Because if you don't have happy cleaners, you'll be unsatisfied with the work that's been delivered, disappointed in the cleaning quality, and your own staff may even end up being unhappy too.
Of course you (our client) are our number one priority, and we understand that you just want a cleaning company that'll deliver the work promised. But that won't happen without happy cleaners.
The team at In-Tec are looking for clients who care about their cleaners as much as they do their own employees. If this isn't the case, then you're probably not an ideal client.
Value sustainability and taking care of the planet
At In-Tec, we care deeply about the planet we call home.
This is exactly why it's time to put toxic chemicals out of business and start using chemical-free cleaning products!
With a potential new client, we search for someone who values sustainability and taking care of our planet and environment.
Does this sound like something you're passionate about?
We only ask that you improve your sustainability by taking these three simple steps.
Use chemical-free cleaning solutions – anything that's GECA certified like Enviroplus or even Tersano
Switch to modern day cleaning equipment such as an i-mop
Use the right microfibre cloths (disposable)
Now, the non-ideal client will be happy to use chemicals such as bleach and ammonia-based cleaning products. You know, the ones that make you hold your breath and pinch your nose…
If this is what you're after, then you're probably not In-Tec's ideal client.
We want someone who wants to contribute to a better cleaner world, one that we can all enjoy!
Are you the ideal client for In-Tec?
We hope that this article has given you a little clarity on what it is we're exactly looking for from a client.
We understand that not everyone will value the same things as us, and that's totally okay. There'll be a cleaning company out there for you, we're sure of it! But by telling you our checklist, it means both you and I can figure out whether we'll work together or not (remember partnership).
If you think In-Tec are the right fit for you, then that's fantastic! Schedule a call with Paul, our Managing Director, and we'll get started to know each other and what you're after. We can't wait to hear fro